New TS4 Info from Graham Nardone and Grant Rodiek!
(Info compilation from SimNation Blog…I edited some of it for clarity)
Sims
Sims in your social group who you are having conversations with have a white PlumbBob: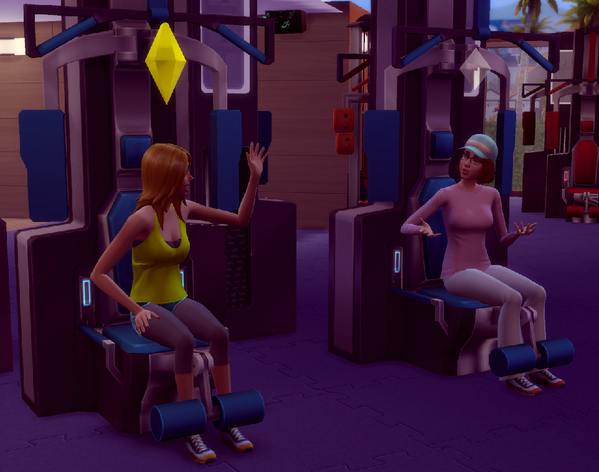 Pregnancy lasts a "few days".

Teen represents a 13-16 year old approximately. Young adults are in their mid 20s.

There will be no turn ons/turn offs like in TS2.

There is a list of Sims to choose from when adopting.
Skills and Careers
WooHoo skill is no longer in the game. There may be some new skills we did not see in The Sims 3.

Culinary career is confirmed.

Gardening - herbs, vegetables, fruits, and flowers! You can get seeds sent via mail through various methods including ordering them. Seeds have different qualities, just like in TS3.

Sims 

may

become fatigued if they exercise for too long without breaks.
Moods and Motives
Sims in good moods will sing in the shower.

There will be 6 motives: Bladder, Hunger, Energy, Fun, Social, Hygiene. Others are subtly integrated into the system.
Tutorial
The game tutorial is done with Sims that you create.
Objects
Sims cannot purchase different cell phones.
Wishes, Whims, Moodlets and Moods
Wishes have been replaced with Whims, the main difference being that Whims appear like thought bubbles and will persist until you satisfy them or when you click it off to get a new one.

Moodlets are back and each one contributes to emotions. For example, if a low mood causes a Sim to get a certain moodlet, that moodlet will put them in an uncomfortable emotion.
Money
All Sims in a household will have a "shared wallet", like previous Sims games.
Camera
There will not be a auto-moving camera to allow you to just watch the Sims go about their lives, however there is a function to lock your camera on an NPC.

All of the features from cameraman mode are back - FOV, rotation, pre-set camera positions, etc.
Censorship
The censor for when Sims are nude will still be in game.
Sims
No celebrities in the base game, however many are likely to be uploaded to The Gallery.

The postman NPC will be an adult.
Outfits
You can change between multiple outfits at any time, or take your Sim back into CAS to plan new outfits. You can access CAS anytime to change clothes, make-up etc.
Skills
Skill levels go from 0 to 10 just like in previous Sims games. Children's skills also go from 0 to 10. There will still be skill bars.

Children have different skills than adults.